Finally, I get to do some dovetailing in this project.


The skirt is dovetailed around the bottom of the carcase. I laid my skirt boards around the carcase and marked them with knife lines so they would fit snugly and precisely.

I'm getting better at dovetailing. In hardwoods, I like to saw out my waste with a coping saw: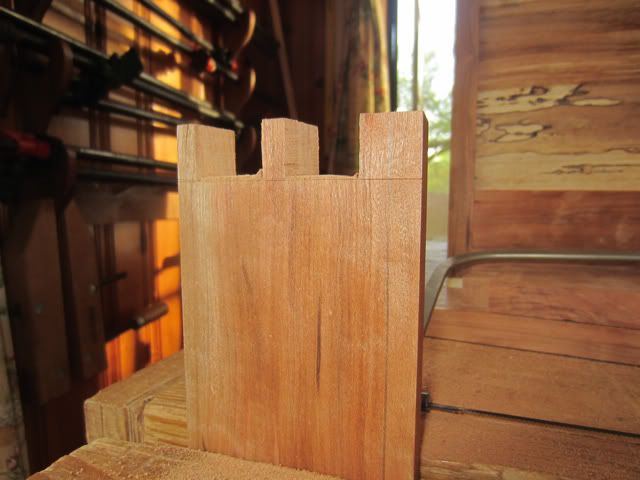 Two tails and three pins should hold everything together nicely. There's a little sapwood at the bottom all around, which should provide a nice color mirror to the light colored panels.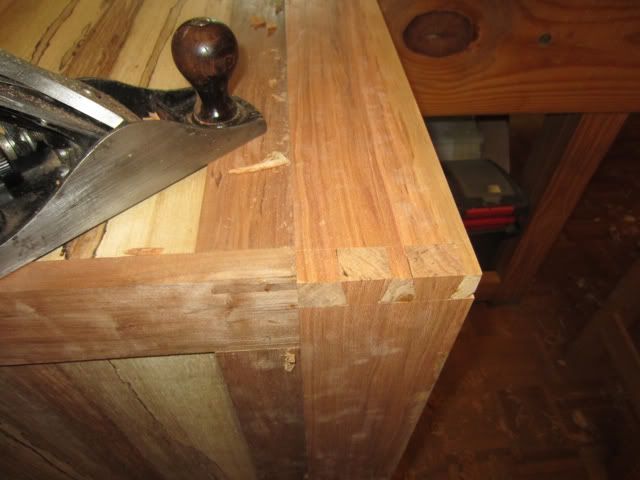 All my dovetails fit right off the saw, though you can see a little gap in this one. I shimmed three other little gaps.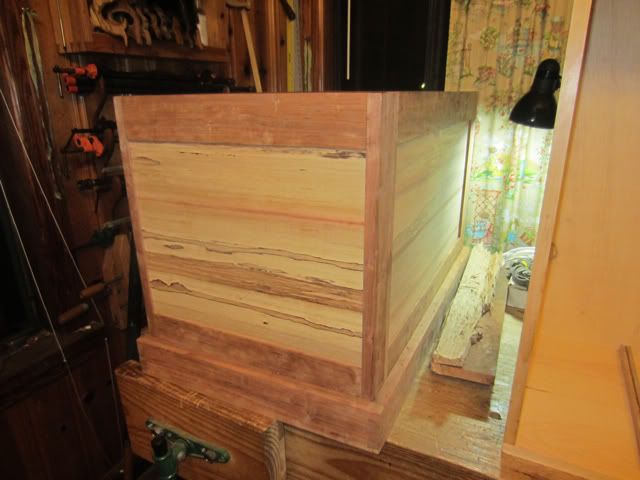 I glued the skirt on and nailed it on from the inside for good measure. I'm putting casters on the bottom eventually, so the skirt needn't support any weight, but it could if it had to.

I planed a small chamfer all around the skirt. I started planing on the tail boards and then planed the pin boards so as to clean up any break-out on the exit side. To my eye the chamfer is too small. I'm going to make it bigger.

And that's as far as I've gotten. I have some nice stock picked out for the lid, but first I'm going to start installing the guts. I'd rather install the guts without having to work around an open lid. The plan is a chisel rack on the front, a saw till for four saws, and an open area on the bottom for planes. I'll also put in two levels of sliding trays. The rails will get put in now, but I'll build the trays later.

--------------------
Steve S.
--------------------
Tradition cannot be inherited, and if you want it you must obtain it by great labour.
- T. S. Eliot

Tutorials and Build-Alongs at The Literary Workshop